Firstly, thanks to Matt for today's topical cartoon.
I haven't given into the urge for more than one outdoor walk per day (I have my treadmill for walk number two) but still found this quite apt.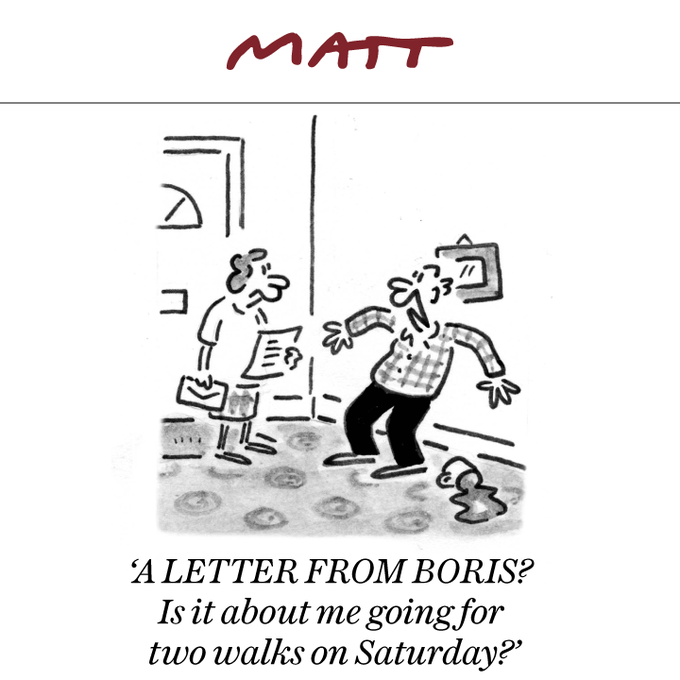 The, becoming, usual walk this morning swapping dogs half way around.
My training plan called for four miles and we managed to clock up 4.6. No treadmill needed today.
I was trawling the internet and came across an interesting idea. Organised by Cani-sports Scotland (CSS), an 'event' is being organised for 18th April.
"What?" I hear you cry, "How can anyone conceive of holding an event during the lockdown?"
Easy ! Runners and dogs do not actually meet. This is how CCS explain it …
• Run at your chosen route and distance, log your own time, be honest you will only be cheating yourself, it must run done on 18/4/20. Please do not organise to run together in groups unless you live in the same house.
• Email or Message your 5k or 2k time to the organiser: canisportsscotland@hotmail.co.uk BY end of day on Saturday 18th April. If you have a strava or similar map/details please send screen grab or link as proof of run.
• Results will be collated and an online presentation of prizes done live via the CSS Facebook page at 12.30pm on Sunday 19th April, medals will then be posted to winners on Monday 20th. Results will be listed on www.racesplitter.com for all to see.
Cani-sports Scotland are charging £4 to cover the event including posting out a shiny medal – well worth a punt !
So I have one event that will take place – something to train for.