During a bout of internet surfing, I discovered that Birchfield Harriers have a race walking section. I emailed the club saying that I was interested and was told to pop in on a Tuesday or Thursday.
So after work, I fought the traffic through Newtown and Perry Bar. The journey didn't take quite as long as I thought so I rocked up at Alexander Stadium just after five.
To kill a bit of time, I checked my emails and found an invitation from SiEntries. Months ago I tried to enter A Coventry Way which is a forty mile walk around Coventry taking in Meriden, Kenilworth, Stoneleigh, Brinklow, Bedworth and Fillongley. I was too late entering and was put on the waiting list. Today, a place became available.
Great news? Perhaps.
The event takes place on April 7th – this coming Sunday !!!
I'll need to shuffle this week's walks to make sure that I take it easy until Sunday.
Back to Birchfield, at around half five, I entered the clubhouse and made my intentions known. After a bit of being passed from person to person, I met Carol who is one of the women race walkers.
We had a bit of a chat until I was passed over to Dave. We talked a bit then went upstairs into a long room where John went through the basics of straight legs and walking the line (just like Johnny Cash). The results were quite amusing, at least to those watching.
Dave and I then ventured outside and spent the next half hour or so walking around Perry Park talking of walking, running, parkruns etc.
I've found this photo of Dave from t'internet.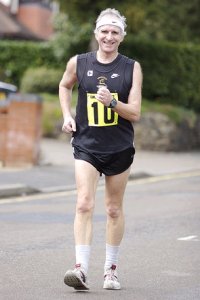 At the end of our workout, I was told about a scheme that the club runs where you can attend eight training sessions, as a taster, before having to join the club proper. I picked up a form to fill in for next week.